The Billionaire Mindset Seminar with Daniel Strauss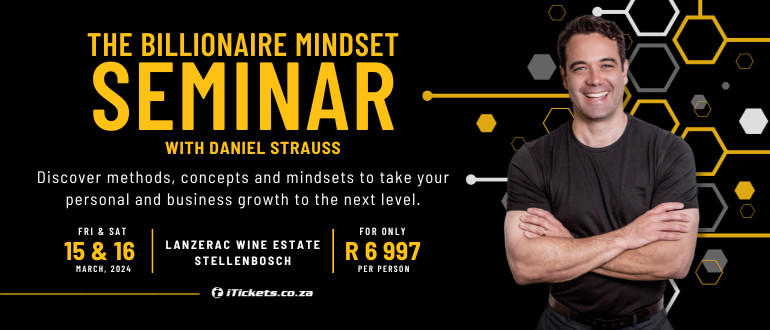 Organized by RSS Records Pty Ltd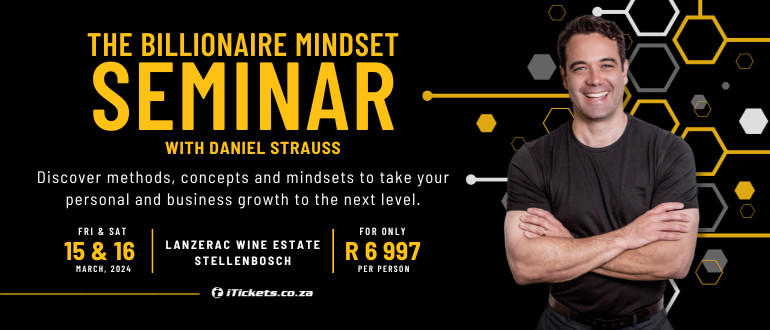 The Billionaire Mindset Seminar with Daniel Strauss
LANZERAC WINE ESTATE, STELLENBOSCH
---
After this seminar, you will have created a 3-year in-depth blueprint to start or grow your business while adopting a Billionaire mindset and the ability to reach your full potential.

Daniel Strauss
is a Venture Capital Entrepreneur, international speaker, and best-selling author of The Billionaire Mindset.
---
Who is this for:
Daniel Strauss hosts The Billionaire Mindset Seminar for entrepreneurs, aspiring entrepreneurs and venture capital investors who want to raise their level of thinking and take the next step toward business and personal growth.
What to expect:
You can expect an intensive 2-day experience at one of the most beautiful wine estates in South Africa. Daniel will take you on a journey of discovery with practical methods, concepts and mindsets to equip you with the tools to take your personal and business growth to the next level.
If all this did was get you out of the rat race, grow your valuation up to 3 fold within a few months or allow you to spend an extra hour with your loved ones as a result of a more successful business... Would it be worth it?
Daniel had two options:
1. To only invest in businesses and walk the journey with them, one-on-one as he has been doing for over 10 years, or
2. Share these secrets and methods that changed his own as well as countless entrepreneurs' lives with more people, but still in an intimate, personal environment?
He decided to share this message with as many entrepreneurs as possible and that is why he is hosting this 2-day seminar and gifting you to have all of these for only R6997!
Thus, what you will invest:
R 6,997 per person
After this seminar, you will have created a 3-year in-depth blueprint to start or grow your business while adopting a Billionaire mindset and the ability to reach your full potential.
---
Daniel is a family man and an entrepreneur who invests in other entrepreneurs. His first book, The Billionaire Mindset, became the number one South African book during April 2021, earning him the title of Best-Selling Author based on Nielsen official sales data.
He went through a time in his life when he was lost. Even though he had an Engineering degree as well as an MBA, he couldn't find a job and felt like a failure. Daniel's major breakthrough happened when he attended a 3-day seminar in South East Asia at the age of 29. He learned life-changing personal growth, financial and business secrets. This is one of the reasons why he is so passionate about The Billionaire Mindset seminar, as he knows the power of seminars and breakthroughs first-hand.
Together with his business partners, he has invested in more than 70 private companies. One of these companies grew in value from R26 million to more than R1.2 billion over 24 months. He has been around the block and following numerous requests, has decided to share this mindset with you.
Seminar Schedule Summary:
Friday, 15 March 2024 from 8:30 to 18:00
Saturday, 16 March 2024 from 8:30 to 18:00
Venue: Lanzerac Wine Estate, Stellenbosch
Technicalities:
- Price: R6,997 per person (VAT included)
- Included: Beverages, lunch and snacks (morning tea and snacks, lunch, afternoon tea and snacks).
- Excluded: Travel and Accommodation (guests are responsible for their own travel and accommodation).
Prices
Entrance Tickets | The Billionaire Mindset Seminar
Seminar Schedule Summary:
Friday, 15 March 2024 from 8:30 to 18:00
Saturday, 16 March 2024 from 8:30 to 18:00
Venue: Lanzerac Wine Estate, Stellenbosch
General Admission
R6,997.00