No longer available online or by phone. Tickets may be available at the event.
Supervrou - Ma & Dogter Geleentheid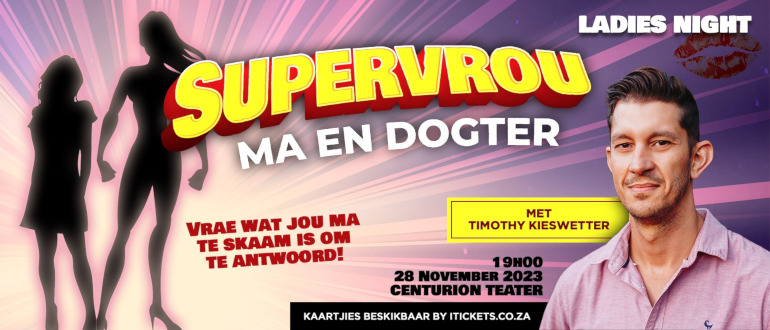 Organized by Tpk Produksies | Gesonde Seks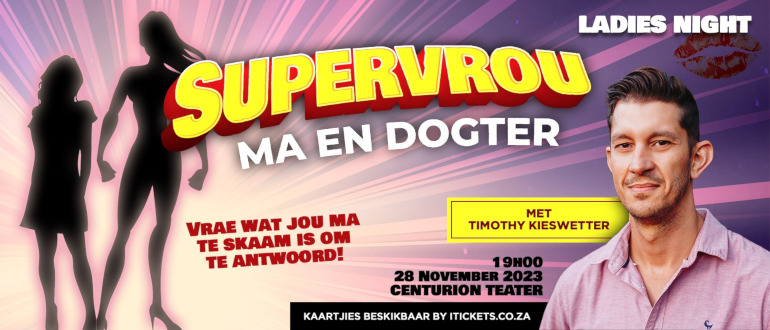 Hierdie Ladies Night is vir mammas en hulle tiener dogters.

Ma & Dogter Supervrou
"Vrae wat jou ma te skaam was om te antwoord."

Hierdie show het ek geskryf vir my 16jarige dogter en haar 4 sussies.

Daar is twee maniere hoe jy jou dogter kan groot maak: Jy kan haar beskerm en voorberei vir die lewe of jy kan haar naïef hou en haar solank as moontlik 'n dogtertjie hou.

Ek kies om haar gereed te maak vir haar toekoms.

Bring sommer ouma saam, dan het ons 3 generasies van Supervrouens!

Ons eindig die show met 'n Q&A geleentheid.

Jy kan jou vrae solank anoniem instuur nadat jy die kaartjie gekoop het.
Prices
Dinsdag, 28 November 2023 | 19:00 pm (Deure open 18:30 pm)
90 min
Grond Vlak Kaartjie
R220.00